One of the most trustworthy and stable careers you can have is a job in the commercial transportation industry. By operating large commercial vehicles, like semi-trucks, tankers, flatbeds, intermodals or box trucks for logistics and delivering packages, you can earn a significant salary. Commercial driving pays a lot better than you might think.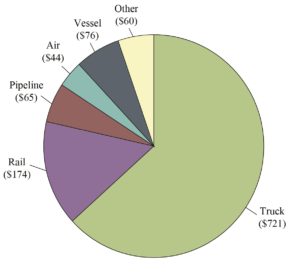 Transporting goods across states and nationwide is mainly done by the trucking industry. The Bureau of Transportation recorded $721 billion worth of goods being transported by trucks in 2017. That is more than rail, pipeline, air, vessel, and others combined.
Keep in mind, some commercial driving jobs require you to be away from home for a long time, but not all, and both types of jobs provide everything you need for a successful and lifelong career.
Being a driver of Commercial Motor Vehicles (CMV) does have some requirements to get started.
Legally, you must obtain a driving permit and then a Commercial Driver's License (CDL). Your new employer and local state laws are the determining factors of any additional requirements.
Why Do You Need a CDL?
You must have a CDL to operate a commercial motor vehicle legally. You can get in serious trouble for driving a large truck without a license. You also will not be hired by any large shipping or transportation company without a license. A standard driver's license is not enough, and you must, specifically, have a commercial license.
How To Get CDL Training?
It takes some time to earn your CDL. You cannot walk into your local DMV and ask for a commercial driver's license; instead, you need to study, learn, test for your permit, and then take the Skills and Knowledge Test as well as a driving test on the road to get your CDL. It helps tremendously to participate in a CDL training program.
CDL training courses provide you with every bit of information you need to pass your CDL test. In training, you will be instructed by certified professionals on the subject of driving commercial vehicles and how to pass the CDL test. They provide you with mechanical knowledge on commercial vehicles, plus on-the-road training.
There are a few ways you can go with CDL training. You can find an employer that provides the option to fund your CDL training, which means your training will be free, but you must work for the company that provided funding. You also have the option to pay for training yourself; some training programs have job placement at the end of the training course, so you can still get a job quickly. The better and easier option would be to find a job that pays for the training because it costs thousands of dollars.
This is the first place to start your search.
Submit your information below to find employers and CDL training schools near you.
Why Choose America's Driving Force?
For the last 23 years, America's Driving Force has been a leader in the transportation and logistics of the trucking industry. They provide an excellent training program for people who are looking to earn their CDL. If you join the America's Driving Force training program and complete it, they will help you find a job afterward with one of their numerous friends in the commercial industry.
America's Driving Force has helped numerous people find successful careers in the transportation industry and provided them with a sense of comfort throughout the training and licensing processes. There is a lot of information to absorb to be able to pass the CDL exam, and you also need to be confident on the road; Americas Driving Force helps with everything.
If you try to study by yourself, without going through a training course, you are likely to miss important details that could cause you to fail. It is also best to learn from an expert because you will pick up on their techniques; teaching yourself how to drive a commercial motor vehicle could cause you to develop bad and potentially dangerous habits.
How Long is the CDL Training?
The length of a CDL training program can vary between about one to two weeks, sometimes longer. It all depends on the people who run the program, what type of CDL training it is for, and what all the program entails. Training for a Class A CDL tends to be longer since a Class A license encompasses more kinds of vehicles.
Class B training has less information, but it is just as intense as training for a Class A. No matter what training program you decide to attend, you can expect that it will almost entirely consume your time until you have completed it.
Key Learning Points in CDL Training
In your CDL training course, you will learn many topics and skills that will come in handy while working as a commercial driver. For this line of work, you need to know a lot more than just driving. You must learn the mechanical aspects of standard commercial motor vehicle engines, parking and backing techniques, and the functions of all the instruments inside large trucks.
Your training course will cover all of this. It also helps to be prepared before going into training, so that you have an idea of what you should be studying. If you want to read ahead before going to training, you should try reading the CDL Manual provided by the FMCSA (Federal Motor Carrier Safety Administration). View the link below.
Click here to view a digital version of the FMCSA CDL Manual.
The Importance of CDL Training and How Americas Driving Force Can Help
It is crucial that you pay attention in CDL training and work hard to earn your Commercial Driver's License; not just because of legal reasons, but because you do not want to get stuck when you are out on the road. Think about what would happen if you were driving an eighteen-wheeler across the country and it broke down on the side of the laneway.
What would you do? Would you know how to fix the problem quickly? This is why CDL training is so important because your employer wants you to be able to get their items shipped on time regardless of issues along the way.
You should get your CDL training with Americas Driving Force; they can ensure that you pass your test with ease and that you have a legitimate Commercial Driver's License on day one of your new job in the commercial transportation industry.